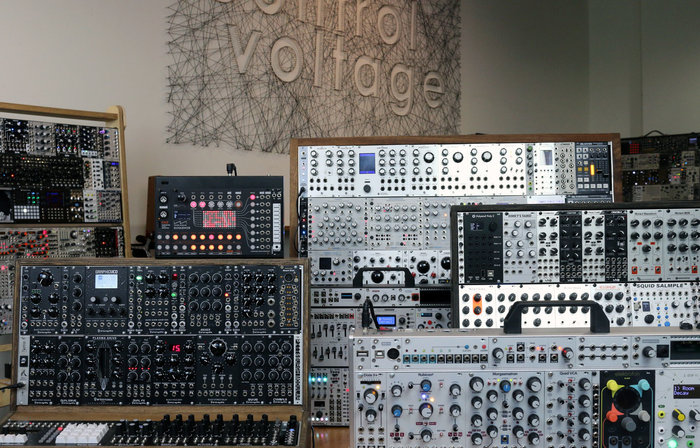 Systems:
I often ask one simple question to the folks who come to the shop looking for answers, ideas, and inspiration - "What do you want to do with it?"
Of course the mission is always to make sound, but what I really mean is what is its purpose in terms of their current setup and style. Do they want a mono synth with multiple oscillators and a Moog-style filter? Or something that feels more like a Buchla? Do they want it to be an analog/digital hybrid drum machine with complex sequencing? Or do they want it to be a voltage controlled FX rig for their guitar? Here we are again, realizing that modular synthesizers can fit all of our musical needs!
Having an idea of what the synthesizer's purpose is gives incredible insight on what modules to fill it with. Once this concept is dialed in, the next order of business is picking a Eurorack case.
Power Cables:
There are a few different styles of connectors needed for powering modules. Usually, but not always (check the associated module's manual) the red stripe on the power ribbon cable marks the -12V power line.
The 16pin-16pin ribbon cable is used for powering modules that have a 16pin header on the back of the circuit board. One of the 16pin connectors attaches to the bus board. Some digital modules and modules that can make use of the CV and Gate pins on the bus board use this kind of cable.
The 10pin-16pin ribbon cable is used for powering modules that have a 10pin header on the back of the circuit board. The 16pin connector attaches to the bus board.
The 4ms Multi-power cable is used to connect several same header type modules to one bus board terminal. There are both 16pin Multi-power and 10pin Multi-power options.
Cases:
A eurorack case is made up of several parts.
The enclosure itself, which is often made of wood, steel, or plastic.

The power supply, which connects the wall power to the case.

The power distribution which connects the power supply to the individual modules.

The mounting rails, nuts, ears, and/or brackets which allow modules to be mounted to the case.
Some things to think about when deciding between Eurorack cases:
Does the case have power? If so, is the power internal or external?
Some cases have an included power supply that powers all of the modules. All cases need a power supply but some are purchased separately

For instance, the

Intellijel 7U Performance Case

has a built-in power distribution bus board and an external power brick that powers the system from the wall. The

Moog 60 HP Case

, on the other hand, is unpowered and needs an external power supply like the

Tiptop Audio uZeus

and its external

power brick

. Cases like the

Pittsburgh Structure 360 Case

have all the power circuitry mounted inside the case, adding weight and heat to the system, but only requires a 3-prong IEC cable to connect to the wall.

How many HP and U is the case?

HP stands for horizontal pitch. U stands for rack units. Modules are measured in width by their HP and in height by their U. The more HP and U a case has, the more room there is for modules! In the early days of Eurorack, 84 HP was the standard width of a case, because it fit into a traditional 19"/3U rackmount frame - the

Tiptop Audio Happy Ending Kit

is great for this. Later on, manufacturers began to offer 2 rows of 104 HP in their cases because it met the limits of carry-on size requirements for flights, like the

Pittsburgh Structure 208 Case

.
The

4ms POD series

has many different options for HP and can be daisy-chained to power from one power brick with the use of

4ms Barrel Jumper

cables.
Some cases, like the

Intellijel Palette

include an extra row for 1U modules, which are

⅓

the size of traditional 3U Eurorack modules.
How many milliamps (mA), the unit used to measure current, can the power solution actually supply? This is also often measured in amps (A). 1000mA = 1A.
The more mA, the more work the power supply can do.

Digital modules often require high current to function properly (or even turn on).

Reference the manual or a tool like

MODULARGrid

to find out the specified current draw of the modules you want to use.

We recommend that you leave at least 15%-20% of current headroom. For instance, if your power supply is rated for 1000mA (1A) output on the both the +12V and -12V rails of the power supply, don't draw current over 800mA-850mA (0.8A-0.85A). This leaves plenty of headroom for upsurge (when the system is turned on and all modules power on at the same time).
Does the power supply +5V?
Some digital modules require an external +5V to power the microprocessor on the module. These days, most modern cases supply +5V.
Sliding nuts or nut rail? And what size of screws?
Cases like the

Make Noise Powered Skiff

have sliding nuts to mount the modules in and use M2.5 screws. Sliding nuts can be tedious to work with, but they ensure that there is no left over space between modules.
The

Tiptop Audio Mantis Case

uses a nut rail to mount the modules and use M3 screws. The nut rail makes it easy to mount modules, as there are no free-floating nuts to line up, but they do lead to small gaps between modules where there are panel size inconsistencies.
What the heck is a skiff?
A skiff refers to any case that is only 1 row, 3U high. 
Does the case have a lid? If so, can the lid be attached while the system is patched?
If you plan on gigging with your system, it's good to have a lid that, when attached, leaves enough room for the system to be patched. The

Make Noise 7U Steel CV Bus Case

is a great option for this, as it's not incredibly heavy when filled and is great for travel.
Is battery power necessary?
The

Polyend Anywhere

power module powers a system from a common power bank battery and is great for camping trips and flights.

An issue to be aware of is grounding between a case that uses battery power and a case that uses wall power. Weird grounding issues can happen in this scenario where loud distortions and unwanted noise occur when patching between cases.
Expandable cases?
Studio case?
Do you want to buy a case or should you build one myself?
If the option is to build one, you'll need a few things:
Conclusion:
We truly hope this helps prepare you for your future system and gives you the necessary information needed to plan accordingly based on your musical needs.
Please visit our Cases and Power section of our website for more information and available products.
Be the first to comment...